Robert Anasagasti
CEO and Co-Founder
Robert is originally from Oceanside, CA but being the son of a US Marine, he had the opportunity to move frequently and experience life in different parts of the country. He graduated with a BA in Psychology from Claremont McKenna College. Not long after college, he moved to Arizona, where his 25 year long career in sales management took on many different challenging opportunities. Robert and his wife Terri were inspired to open Tyler's Place because they have a teenage son with autism and they just could not find a good enough after school program for him. Robert enjoys traveling, tennis and the Arizona outdoors which means he likes to get out and go off roading with his son Tyler as often as he can.
"As a proud autism dad, my first priority will always be to make sure that our members have an engaging and uplifting experience when they set foot inside our facility."
Terri Anasagasti
Co-Founder and Director of Membership and Client Services
Terri is a very proud 4th generation AZ native.   Before devoting herself fulltime to Tyler's Place, she worked in the Chandler Unified School District for eight years. First, as a paraprofessional and then these last 5 years as a Special Education Sr. Administrative Clerk at the high school level. As the mother of a teenage son with autism, Terri understands what it is like to stand in our parents/guardians shoes and believes in keeping an open line of communication between families, vendors and the community so that our members can reach their full potential.  In her free time, Terri enjoys spending time with her family/friends, traveling, being active, watching movies and gardening.
"It's time we take our focus off disabilities, and place it on capabilities, so we can see the person first."
Jeannie Jones
Director of Human Resources and Training Services
Jeannie comes to us with over 25 years of managerial and leadership experience in the field of health and human services. Originally from San Antonio, TX, she moved to Arizona in 1988 where she completed her Bachelor's degree in Business Management at University of Phoenix. Her extensive experience managing day programs, developing curriculum and hosting workshops along with her infectiously fun attitude will ensure that our members enjoy their time with us. When she isn't working, she loves to crochet and watch crime documentaries.
"I believe in always having a positive attitude and have always had a passion to help others become successful in life."
Audrina Greeson
HCBS Coordinator
Audrina is an Arizona native and a proud member of the Navajo Nation. She comes to us with 12 years of experience in early childhood education with three years in a leadership role. She hopes to one day finish her degree in anthropology and enjoys traveling the country. In her free time, she likes to try new foods, read, watch horror/true crime movies and loves anything related to Halloween! She has a deep passion for establishing relationships with people and understanding their needs.
Sarah Huffhines
Day Program Supervisor
Sarah is 24 years old with a BA in Marketing from New Mexico Highlands University. She has been with Tyler's Place since its inception and has worked with many of our members both in our day program and in the home/community. Through her time at Tyler's place, she has found a passion for teaching and working with individuals with developmental disabilities and plans to further her career in the field. Born and raised in northern New Mexico, Sarah is both an avid outdoorswoman and green chili lover. She has a passion for fitness and spends much of her free time hiking here in Arizona. She would best describe herself as creative, detail-oriented, fun-loving, and industrious.
Haley Bodea
Occupational Therapist
Haley is an AZ native and recently graduated from Northern Arizona University with her Doctorate in Occupational Therapy. She is excited to work within her own community and share her creativity and passion for occupational therapy. She has a twin sister and is an animal lover with two pets of her own; a Bernese Mountain dog named Bear and even a pet parrot named Charo! Haley loves thrift shopping, cooking, traveling and spending time with her friends and family. She also loves a good joke!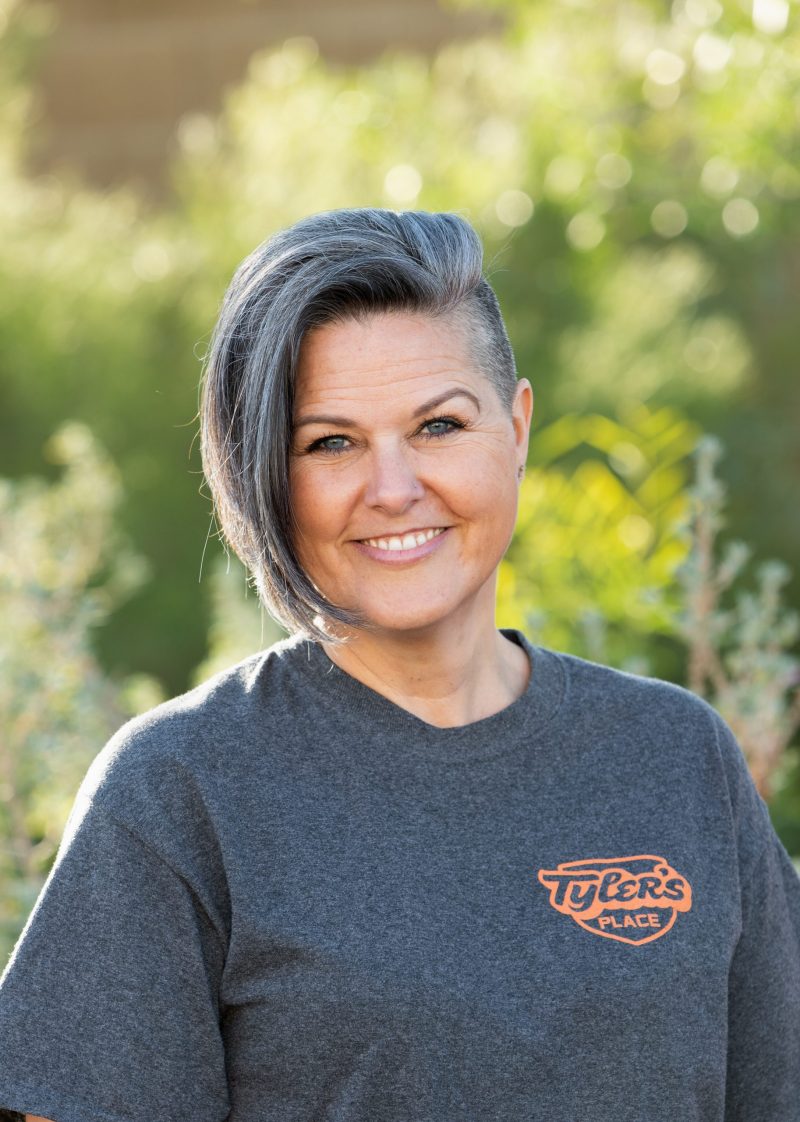 Amber Woolf
Speech Therapist
Amber is an Arizona transplant who loves the desert, anything outdoors and her family! She is the mother of two beautiful daughters who were her inspiration to enter the field of Speech and Language Pathology; they both received speech services. 😊
She graduated Magna Cum Laude from Utah State University and has practiced in schools, clinics, homes and day programs. She has experience with Pre-K to adults and has worked with a variety of disabilities. She specializes in AAC, is passionate about communication and find great joy in helping others.
Anna Verma
Speech Therapist
Born and raised in Illinois, Anna has enjoyed living in Arizona with her husband and three children since 2014. She loves Arizona winters and looks forward to never shoveling snow again! Anna has been a therapist since graduating from Illinois State University with her Master's Degree in Speech Language Pathology in 2008. She has worked in various settings, including clinics, homes and schools. Anna believes strong relationships are the foundation to success in the therapy room and in life. She is inspired daily by the strength, compassion, and grit of individuals with disabilities and their families. She feels honored to partner with members and their families in the journey to better communication. 
Anna is an extrovert that loves meeting new people and having new experiences. In her free time, she enjoys learning about other cultures, traveling, trying new foods, cooking, and listening to podcasts, especially true crime ones! You can also find her streaming the latest stand up comedy special or documentary.